NorAn off the coast of SW Florida

Was tired of the upkeep so my son is the new owner of "NORAN" (Albemarle 24 Express). We fish the Chesapeake Bay and Gulf Stream out of the N.C. Outer Banks.

Oregon Inlet bar crossing video 1 Click image to view (27 MB)




Oregon Inlet bar crossing video 2 Click image to view (80 MB)



Enjoy sailing on brother's boat when I have the chance.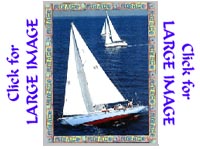 Also: ShadeTree auto mechanics, and boat and home repair. Ugg!
Located at the foot of the Blue Ridge Mountains in central Virginia. Too far from the shore but it is what it is...
Most stuff here is devoted to ham radio homebrewing, scanning electron microscopy, boating and fishing .
Link topics include Ham Radio, Electron Microscopy, Boating & Fishing, Etc.

Click on the images below to go to these areas.

Several years ago, I developed a tutorial about SEM analysis. I believe information found in the tutorial is accurate, but may be slightly behind latest developments. The 4.8MB, PDF file may be downloaded by clicking the thumbnail below. Use your browser BACK button to return.



Ham Gear, Pictures, and Circuits from "QXE Homebrew Lab".

Scanning Electron Microscope (SEM) Images of common and not so common specimens.


Stereo (3D Pair) SEM Images... Best If you have a viewer, but some can do without.



Links: Ham Radio Resources, SEM Topics, Boating, Fishing, Misc. (They are getting old!)

Sorry, email address is not "clickable" - to avoid "spambot" harvesting....